Nightmare Vermont is a unique, all-volunteer, charity Halloween event in the U.S., combining live stage combat, original immersive theater, and all the best in interactive scares and special effects. The event has run in underground spaces and as part of other community events since 2004.  Thousands of people enjoy the show every year and we're looking forward to giving the community a unique, safe, virtual experience in 2020.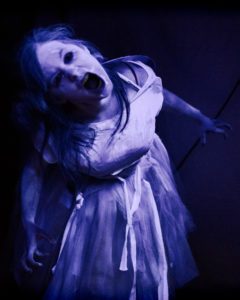 Showtimes: October 22-24, 29-31. Tickets to enter the show are available for timeslots between 7 and 10pm on Thursdays and Fridays, 6pm and 11pm Saturdays.
Buy tickets here!
There are extremely limited tickets to the 2020 Virtual Nightmare.
New This Year: Nightmare Vermont is committed to bringing you Halloween themed entertainment safely and in continuing the tradition of an immersive theatrical storyline, audience interaction, and the best effects and scares your all-volunteer, community cast and crew of evil geniuses can offer you. Your ticket will gain you a spot on an exclusive live stream of accidental adventures in the underground world of the Dark Fae. Bloodthirsty goblins, treacherous magic, and a murderous quest are peppered with live interactions with the characters, puzzles to solve with your audience group, and live polls to dictate character choices. Watch out, a few members of each group might get pulled away into an "Easter Egg" room for exclusive interactions, clues, or performances.